He was a star with a wonderful 'Blues' team that tied for the League title with Cork United but the season ended disastrously and in controversy when the Waterford players refused to play (in a dispute over bonus payments) in a once-off game against Cork to decide the Championship. Cork were declared champions and a few weeks later they defeated the 'Blues' in the Cup Final after a replay. Coad signed for the famous Dublin club Shamrock Rovers in 1942 and it was with Rovers that he became a legend in his own lifetime. He transformed play in the League with his tremendous skills; his passing of the ball and his overall generalship showed other clubs the way football should be played and he was responsible, almost single-handedly, for a general rise in standards. Every team tried to match Rovers in the new way forward.
After he was made their coach, in 1949, Rovers became the dominant force in Irish football. Coad was the master-general and it was said of him that he did every thing at the club but drive the bus. He was known, primarily, as a maker of goals but he did score 126 League of Ireland goals and 41 FAI Cup goals in his career. He won three League Championships with Rovers (1954, 1957 and 1959); four Cup medals (in 1944, 1945, 1948 and 1956) and three Cup runners-up medals (1946, 1957 and 1958) and he was selected eleven times for Ireland between 1946 and 1952. He played in twenty-four representative games for the League of Ireland, the last in 1955. Coad reserved one of his greatest performances for the European stage when, in 1957, he dominated the European cup tie against Manchester United at Old Trafford. His display that night had to be seen to be believed and it was described as the greatest by an Irish player in England up to that time. And remember - he was 37 years old.
He returned to live in Waterford and in 1965/66 he coached and managed the 'Blues' to their first League of Ireland championship. Coad is regarded as the greatest Irish player never to have played in England but there are many, in Dublin as well as in Waterford, who will say that there never was anyone as good as Coad. He was a true legend.
International appearances (11); 1946, v.England; 1947, v.Spain, Portugal; 1948, v.Poland, Spain, Switzerland; 1949, v.Belgium, Poland, Sweden; 1951, v.Norway; 1952, v.Spain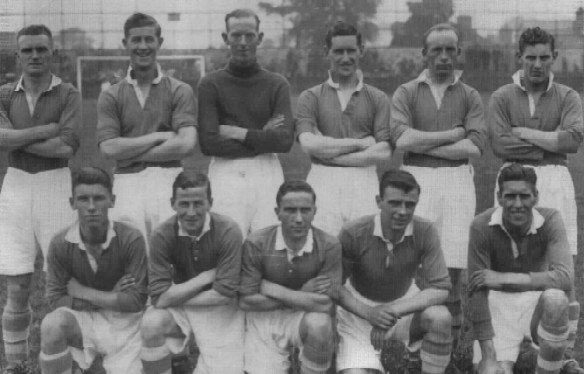 This is the 1937 Waterford A.F.C. team that Coad joined when aged 17
Back Row (L to R); McPherson, "Fatty" Phelan, Wynn, Willie Walsh, Tom Arrigan, Duff Front Row (Lto R); Paddy Coad, Kennedy, Carr, M. Walsh, Milligan